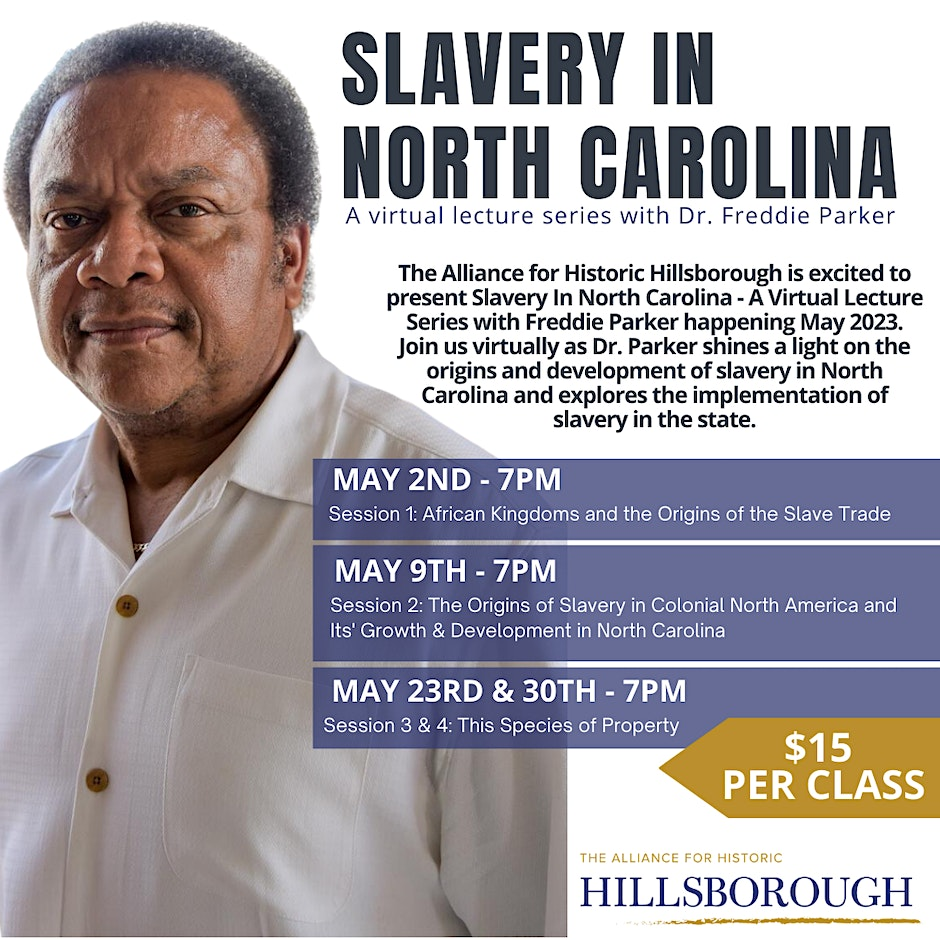 The Alliance for Historic Hillsborough is excited to present Slavery in North Carolina – A virtual Lecture Series with Freddie Parker happening May 2023. Join us virtually as Dr. Parker shines a light on the origins and development of slavery in North Carolina and explores the implementation of slavery in the state.
Please note: This is a 4-part lecture series. See below for full details. Registration is required. Tickets are $15 per class or $50 for a full-series pass. Tickets can be purchased here: https://www.eventbrite.com/e/slavery-in-north-carolina-a-virtual-lecture-series-with-dr-parker-tickets-603915386177. For questions, please contact Annie@historichillsborough.org.
May 30: The Species of Property 2
Over the past forty years, the scholarship on slavery has addressed nearly every phase of slave life, including family life, religion, courtship and marriage, folklore, folktales, resistance, profitability, African retentions and acculturation. Sessions three and four will address these and other aspects of slavery in North Carolina and specifically Orange County. The following are specific topics covered: 1. The mechanisms of control a. slave codes b. the patrol system c. racial indoctrination 2. Plantation life 3. The Slave Family 4. Coping Strategies 5. Slave Resistance a. day-to-day resistance b. cultural resistance c. running away d. conspiracies and rebellions 6. Slavery in Microcosm, Orange County, North Carolina 7. Free Blacks in North Carolina, 1790-1860.