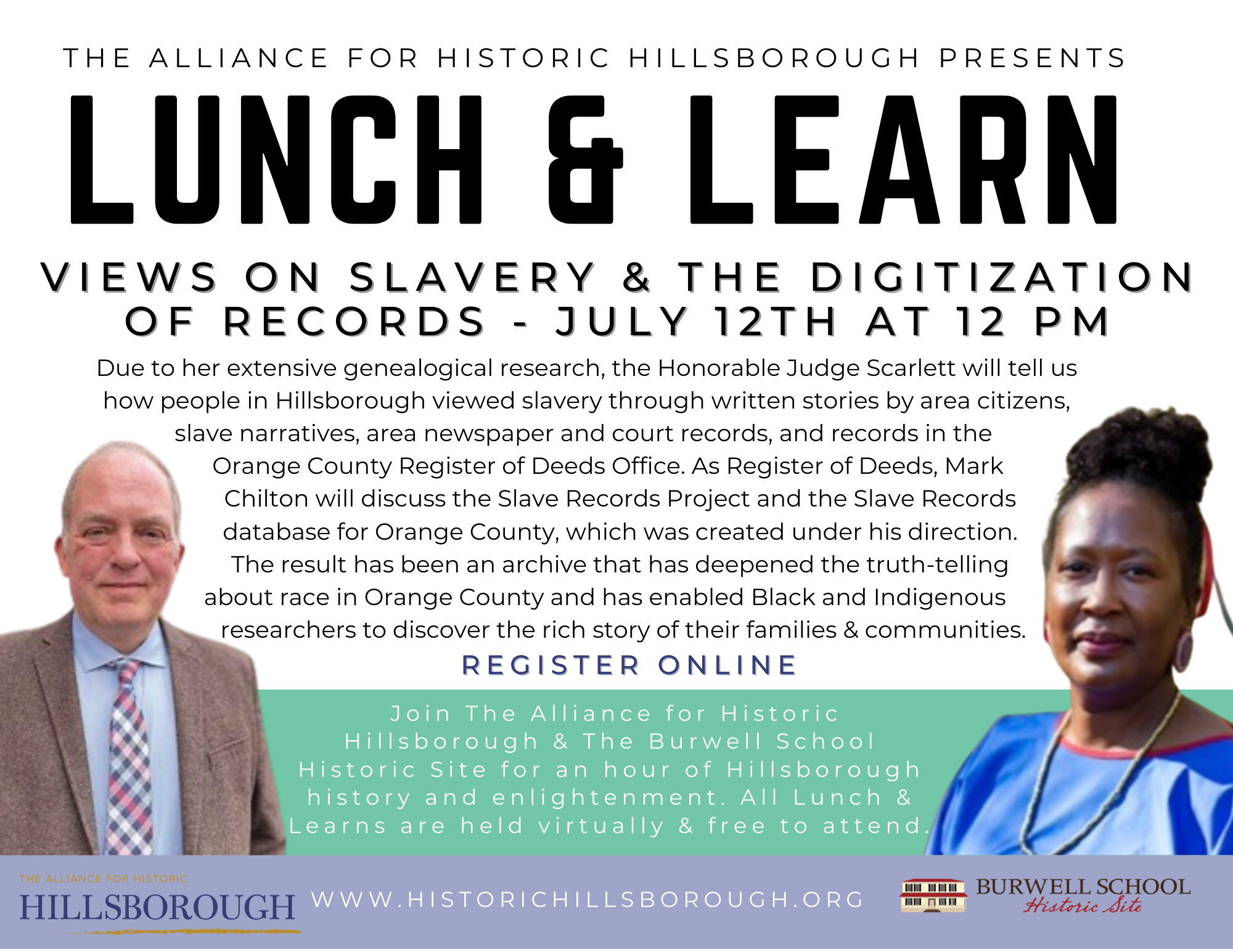 Listen while you lunch! Join The Alliance for Historic Hillsborough & The Burwell School Historic Site for an hour of Hillsborough history. Our Lunch & Learn series is a free virtual program.
Due to her extensive genealogical research, the Honorable Judge Scarlett will tell us how people in Hillsborough viewed slavery through written stories by area citizens, slave narratives, area newspaper and court records, and records in the Orange County Register of Deeds Office. As Register of Deeds, Mark Chilton will discuss the Slave Records Project and the Slave Records database for Orange County, which was created under his direction. The result has been an archive that has deepened the truth-telling about race in Orange County and has enabled Black and Indigenous researchers to discover the rich story of their families and communities.
About the Speakers:
The retired Honorable District Court Judge Beverly Scarlett is a lifelong Hillsborough resident and a member of the Historic Hillsborough Commission. She has done extensive genealogical research on the many branches of her family, including the Whitted Family of Orange County. Currently, she is continuing her research into a cemetery that held enslaved people on the former Hardscrabble Plantation in Orange County, near the Durham County line.
Mark Chilton, a former mayor of Carrboro, NC, has been the Register of Deeds for Orange County since 2014. In that capacity, he also serves as an Ex-officio member of the Historic Hillsborough Commission. As Register of Deeds, he has overseen the digitization of thousands of documents, some of which provide genealogical sources to families whose ancestors were enslaved.